Yes, that's right. It is Wednesday. But I was out of town for the weekend, had a great time by the way, and then the unthinkable happened: our home phone, TV, and Internet service were down! For over 24 hours we didn't have any of these! And let me tell you, living off the "grid" as they call it, is harder than you think. I realize how obsessed with technology I am. But the biggest thing is my business. I work from home and it was a massive problem to have no phone and internet.
I hate our provider and they did not disappoint this time. When I called they said it would be 5, yes FIVE, days till they could get out and fix it. I told them that was unacceptable and we would be switching services. This is the last straw. I wasn't even saying it to get someone out here faster, I was just annoyed. And usually I am very easy going and am never rude to customer service people.
Someone did come by yesterday and it took him all of 10 minutes to replace a piece that had corroded. He told me he has been doing a ton of that lately since everyone's "piece" has been corroded. Way to go (I'll keep things kosher and leave out the name) company!!! Once again, you haven't let me down.
During my time of no technology I finally got around to organizing those pictures that have been piling up for 2 1/2 years. Yes, my 16 month old is finally in a few albums and frames! Not a bad turnaround time; 16 months. Good thing we won't be having a third or it might take 10 years before he is in a frame.
On to the results. So I am not below 200. But I didn't gain. Considering I ate quite a bit off the plan, drank like it was my first weekend away without my kids in 4 years, and the most activity I did was walk from the bar to our table and from the parking lot at the ski lodge to the hot tub. I did sweat a little in the steam room and the sauna, but I guess not enough. This week for sure. On Sunday I WILL be under 200 pounds!
And lastly, when Jaylen woke up from his nap yesterday and all was right in the world so I was back sitting at my computer,
he asked, "Your computer is fixed?"
And I said, "Yes!"
He asked, "Can it get broken again?"
Which means that I do need to do a reality check and make sure my computer does not get more attention than my kids. I really have to limit myself. Maybe this was meant to be so I would get that...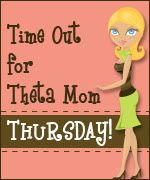 *****Update! I just realized it is Time Out for Theta Mom Thursdays! How perfect is it that my trip coincided? We are supposed to all take some time out for ourselves and that is just what I did!*****